Hampton by Hilton at Balice airport already open
photo. Archive Hampton by Hilton
Krakow's newest hotel has welcomed its first guests. The property is equipped with environmentally friendly solutions, such as a water treatment plant and a water purification station, as well as technological conveniences, such as. mobile app to open hotel rooms.
The area adjacent to the Balice airport is constantly developing as an industrial zone, where international and local companies open their branches. Therefore, in connection with the growing demand for accommodation, only 500 metres from the Kraków Lech Wałęsa Airport, the hotel will be located in the city centre. A hotel of the Hampton by Hilton chain has been opened at the Jana Pawła II airport.
The facility has been open since March 30.
Individual stages of the investment were delivered on time, so the hotel opening took place without any delays. The interior of this seven-storey building features colourful, open spaces. Iliard Architecture design studio & Interior Design, responsible for the architectural design of the facility, created a concept in the spirit of the "Heart of House," with high standards in the design of guest and staff areas. The idea is to increase job satisfaction among hotel staff and thus directly affects the satisfaction of travelers.
Michał Całka, director of the hotel, said: "We are very positively surprised by the interest the hotel is generating. We started to receive reservations several months before the opening. Since a few days we have been making first bookings and we can see that the number of visitors will constantly grow. Hampton by Hilton Kraków Airport is one of the most innovative hotels in Poland. It is a perfect place for those who want to quickly get to the city center and at the same time sleep 500 meters from the airport terminal, so as not to miss the next day's flight."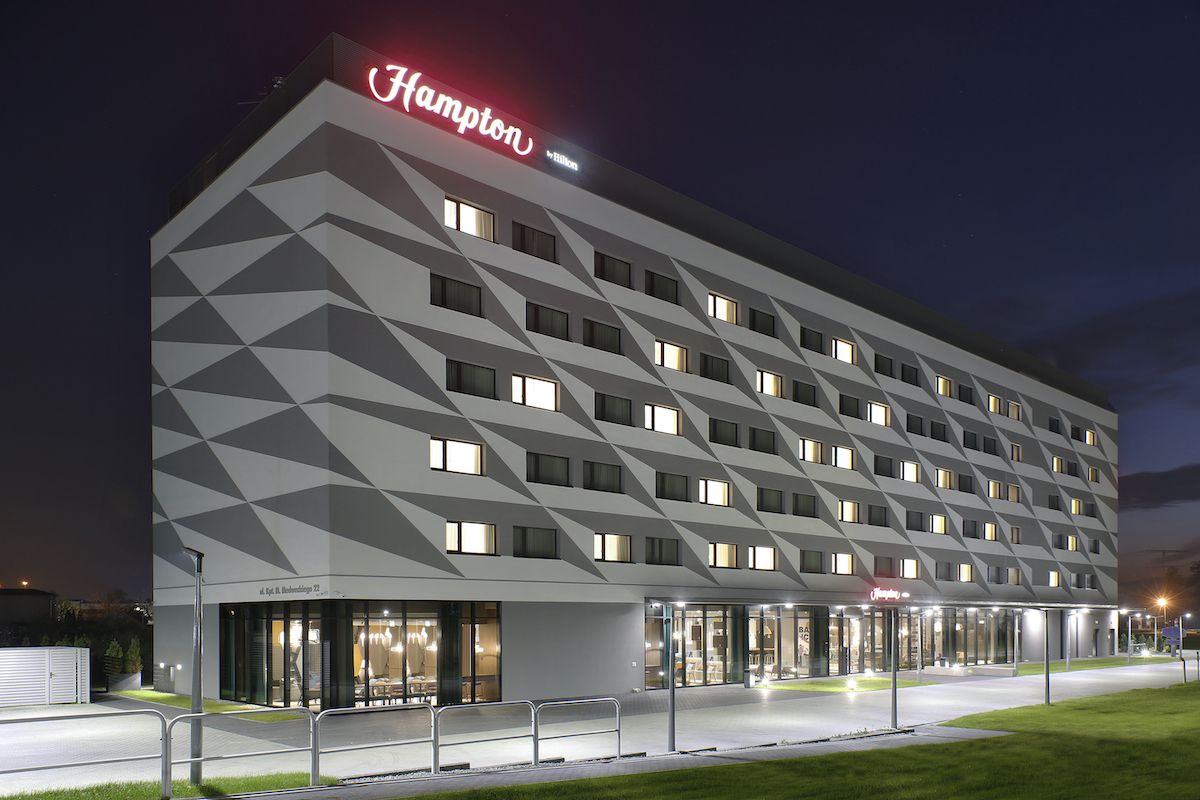 The hotel's lobby is designed to look cozy, with plenty of space to encourage people to spend time there and socialize. A 500 m2 restaurant and a fitness zone, designed in vivid shades of yellow and purple intertwined with motivational slogans, were also put at the disposal of the guests. Bold colors, patterned fabrics, wallpapers and furniture are characteristic points of decorations in hotel common areas. Modern details such as neon signs or graphics reminiscent of Krakow, rooms opened with a digital key using a mobile app – all this is in line with current global trends, while retaining the unique local details of Krakow.
Magdalena Kluba, Architect leading the project on behalf of Iliard Architecture & Interior Design, she emphasized: "The private spaces encourage guests to calm down and relax in comfortable, bright rooms and large beds. A number of unusual installation solutions were used in the building. For example, the hotel is supplied with drinking water from its own well and is equipped with a water treatment station. It also has an environmentally friendly installation of the so called. Grey water, i.e. water that can be recycled to a limited extent."

Appex Alliance Hotel Management director Augustinas Barauskas noted: "Krakow hotel at im. The John Paul II International Airport is a very successful investment. Thanks to the technology used, guests will get everything they need at a lower price. Overnight stay so close to an international airport terminal means saving time before departure and lack of stress associated with e.g. with delayed access. The A4 freeway junction is located nearby, which makes the hotel location even more attractive. It's a quicker commute and easy connection to the rest of Poland. In order to reach other Central and Western European countries, travellers often choose Kraków as an attractive stopover."