Undiscovered Moldova
Moldova is a country associated with traditions, culture, delicious cuisine, quality wines, hospitality and nature. Like a secret garden, known until now only to some, it offers an escape from the crowds and daily bustle, providing peace and quiet. Moldova is a destination for people who like to discover unusual places by immersing themselves in beautiful nature, delicious cuisine, conversations with locals and interesting events.
Start your trip to Moldova in Chisinau, which can be reached by plane from Warsaw in less than 2 hours. In addition, the direction is accessible by motor transport.
Moldova's Spring Festival
Martisor, or "little March," is an ancient 2,000-year-old tradition under the auspices of UNESCO, which welcomes you gently into spring. On March 1, Moldovans present loved ones with amulets made of red and white strings to ensure health and prosperity for the rest of the year. The colors symbolize new life, purity, hope, love and a new beginning. During the pin presentation, the words are said: "Live and bloom like an apple blossom in the heart of spring". Ornaments are worn on the heart throughout the month, and on the last day of March, they should be hung on a branch of a fruit tree, making a wish.
The Martisor tradition emphasizes the importance of human bonds and friendships, which are so important today and flourish best in nature. This year, the holiday has taken on added significance in the wake of Russian aggression against Ukraine. Moldova's renowned hospitality, has shown its authentic power in times of difficulty for neighbors when they need a helping hand, and reflected this year's message of the Martisor holiday: Moldova for Peace.
Moldova for Peace
Peaceful slogans resonate strongly in Moldova with the #moldovapentrupace #moldovaforpeace #молдовазамир campaigns, which are more than just a social media hashtag. Moldovans from home and abroad, stand in solidarity with the people of Ukraine by bringing aid, shelter and smiles to hundreds of thousands of refugees. Volunteer group "Moldova for Peace" in cooperation with the business community, NGOs and charities is coordinating assistance for people who have been forced to flee. Moldova's tourism industry, previously identified with relaxation and unique experiences dedicated to travelers from all over the world, mobilized its forces within hours of the start of the war to provide safe shelter, a warm meal, and peace of mind to Ukrainian neighbors in need.
The word "hospitality" is often used in tourism and marketing. Moldova has shown what true hospitality looks like in times of crisis. The same guesthouses and wineries that took in Ukrainian refugees will once again be waiting for tourists when peace comes.
Still undiscovered Moldova
Moldova is a country still undiscovered in Europe. There are no large industrial centers here, making it a place where you can relax, take a break from the hustle and bustle of the city. Life in the countryside moves at a peaceful pace, people are hospitable and friendly to travelers. It is in the countryside to experience what is most alluring about Moldova, the combination of beautiful nature, open people and local culture.
Moldova can be explored along the trails of vineyards and wineries, and centuries-old traditions of wine production are its calling card. Wine is one of the country's greatest resources and a unique tourist attraction. You can learn first-hand about the production process of this wine, see how it is stored, and during the tasting you can try new varieties made from well-known European, Caucasian, but also local strains such as Feteasca Alba, Feteasca Neagra, Rara Neagra and others. Many wineries offer accommodation and restaurant services, so you can spend a quiet night in a vineyard and enjoy a hearty meal with perfectly paired wine. Moldovan wine tourism is not only an important part of the economy, but above all it is the quality closed in bottles that makes it so unique.
Wine Trails of Moldova – European Cultural Routes
Moldova's list of special attractions includes European Cultural Routes, i.e. routes of particular importance for European identity, culture and common heritage. The title "Iter Vitis – Les Chemins de la Vigne" was established in 1987 by the European Institute of Cultural Routes. The Wine Routes of Moldova include 1560 km of tourist routes in three regions with Protected Geographical Indication (PGI). It's a chance to visit 30 wineries and wine bars, wine cellars, and dozens of tourist attractions where you can sample Moldovan cuisine and wine.
The main route, Codru PGI, includes most wineries of leading white, red and sparkling wine producers. There are m.in. Mileştii Mici, the world's largest cellar entered in the Guinness Book of World Records, Cricova, which is the largest collection of wines recognized as a national cultural heritage, and the Château Vartely winery, with an attraction that won an international competition organized by Iter Vitis and Phoenician Trails. This tourist novelty is an engaging light show that showcases Moldovan wine legends, the history of local spirits and the talent of Moldovan winemakers.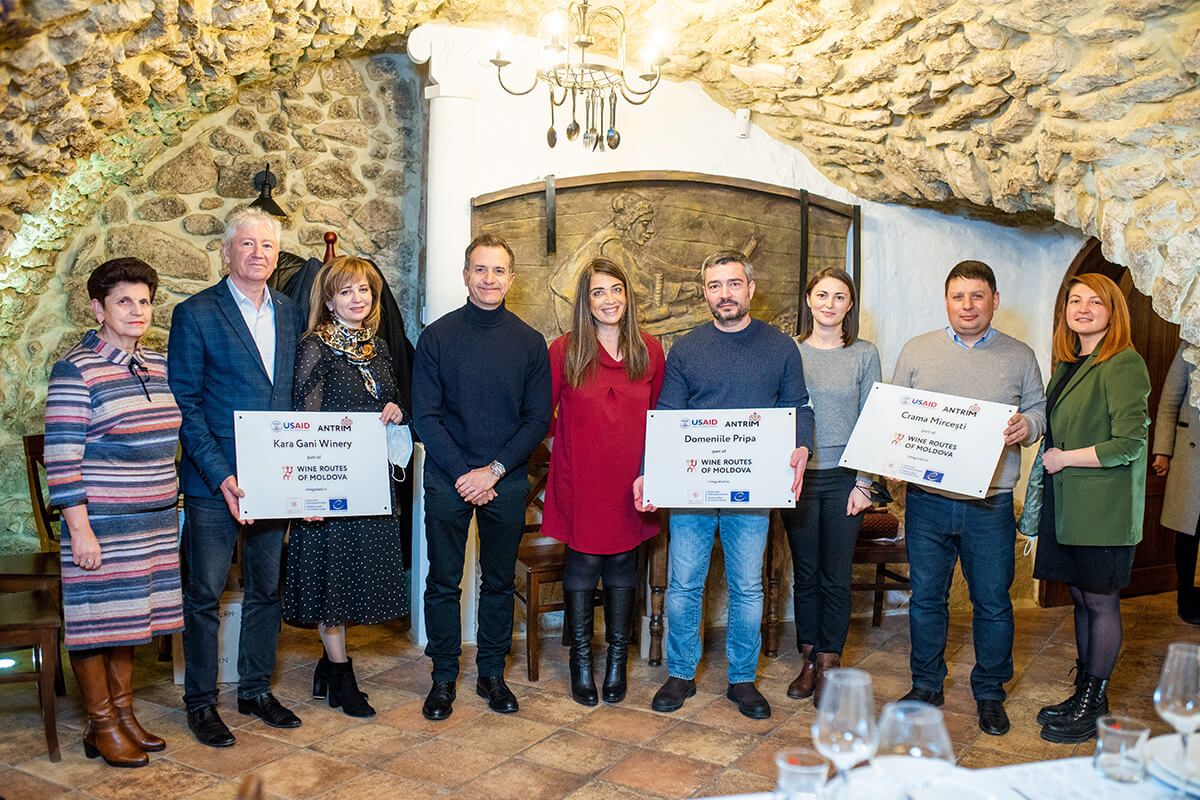 The second route, Valul Iui Trainan (Trajan's Wall PGI), runs from the capital, Chişinău, to the southwest and is known for its red wine varieties. It also passes through Gaugazia, an autonomous area with a visible Turkish influence, delighting in its diversity. The Lower Prut River and Lake Beleu Nature Reserve, listed by UNESCO for its biodiversity, are also located here.
The third route, Stefan the Great PGI, starts in Chisinau and heads southeast. It is a route rich in monuments and enchanting views, where tourists can visit the charming family winery Et Cetera or take advantage of additional attractions such as culinary workshops or cycling tours among vineyards and fruit orchards.
Unique flavors
Moldova wins the hearts and stomachs of visitors with its delicious cuisine. The dishes are prepared with quality local products, the taste of which remains in the memory for a long time. Fresh, delicious and very varied dishes are part of Moldova's tradition. Placinta is a stuffed pastry, one of the most popular dishes. It may be in the dry version, with cabbage, potatoes or cheese, but it also comes in the sweet version with fruit. Another delicacy is the sarmale, meat or vegetable stuffed cabbage rolls wrapped in grape or cabbage leaves. Mamalaya, on the other hand, is a dish of corn porridge eaten with meat, crackling, cheese or cream.
Places and holidays worth visiting – Moldovan Tree of Life 2022
Chisinau, the country's capital, is the largest city where you can visit museums, churches and the Central Park. Also noteworthy is the Orhei Vehiul reserve with its beautiful rock monasteries or Soroki with its majestic medieval fortress. In turn, for fans of active recreation await m.in.Hiking, biking, kayaking, paragliding.
It is worth knowing that in Moldova sports, cultural and gastronomic events are organized within the Tree of Life 2022 calendar (Tree of Life).
Examples include the half marathon along the Nistru River on May 8, or the Sparkling Party at the Cricova winery on May 30. Another interesting event is DescOpera, Central and Eastern Europe's only outdoor classical music festival, which takes place on the third weekend of June in the village of Butuceni within the historical and landscape reserve of Stara Orgyov. Jazz lovers, on the other hand, will be able to take part in a festival in Chisinau a week later. The National Wine Day will be a great opportunity to try a wide range of Moldovan wines during the first weekend of October.
Experience in organizing events
Moldova offers opportunities for business and MICE tourism. A competitive offer allows you to organize an interesting incentive trip, exhibition or conference. Tourist infrastructure, 4 and 5 star hotels in the capital, as well as natural and organizational resources, make this destination an excellent place to organize unusual meetings and events.
Over the past few years, Moldova has hosted international and local economic, sporting and cultural events. An example is, organized in 2018 in Chisinau, 3. International Real Estate Conference. UNWTO Wine Tourism pt. "Wine tourism as a tool for rural development". With over 250 participants from 31 countries, Moldova's hosting of this prestigious event has confirmed its importance on the international stage as an important wine tourism destination.
Moldova is also an arena for major running events. The spectacular 10 km Cricova Wine Run takes place in the underground corridors of the famous Cricova winery at a depth of 100 meters. Another sporting event is the International Chisinau Marathon, which belongs to AIMS (Association of International Marathons and Distance Races), an association of race organizers from all over the world. The start and finish of the marathon will be in the Grand Place of the National Assembly, and the route will go through the main streets of the city.